SEATTLE (Nov. 19, 2020) — The unions that comprise MLK Labor and the Washington State Labor Council, AFL-CIO are committed to promoting racial equity within Washington's labor movement and to building ties with other people and organizations fighting for social justice.
As our state and nation experience a long-overdue reckoning over systemic racism, social justice warriors have been building movements through their artistic expression. We have all benefited from that critical work for the betterment of our society, so Washington's labor movement wants to recognize, honor and reward it!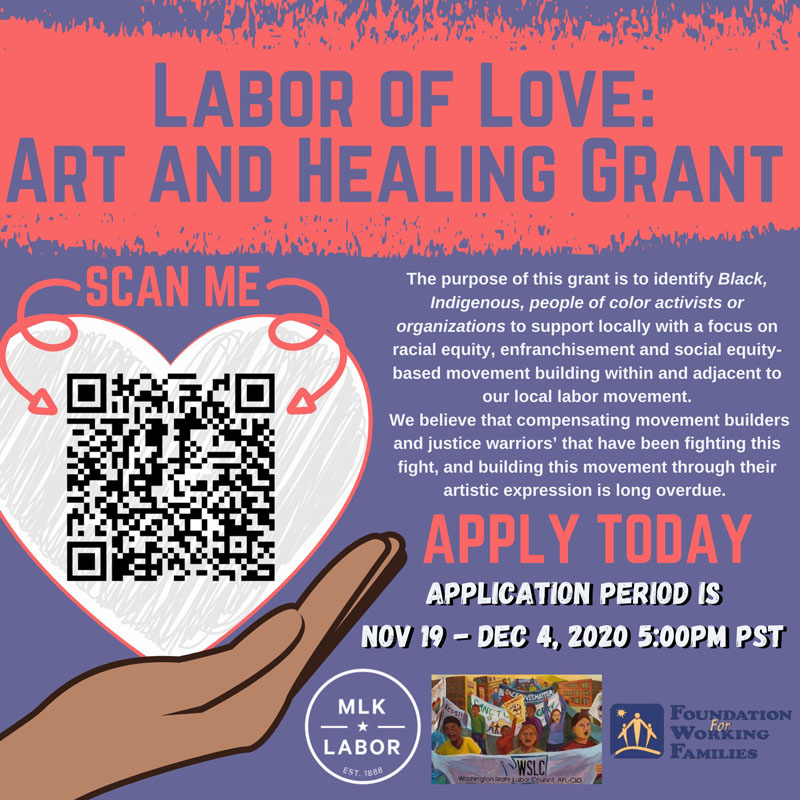 Applications are being accepted starting today through Dec. 4 for the Labor of Love: Art and Healing Grant, which will award up to $1,000 to at least 15 Black, Indigenous, people of color (BIPOC) activists or organizations with a focus on racial equity, enfranchisement and social equity-based movement building within and adjacent to our local labor movement. This grant is being administered by the MLK Labor, the WSLC and the Foundation for Working Families, and is made possible by the Fight Back Collaborative Fund, a fund of the Tides Foundation.